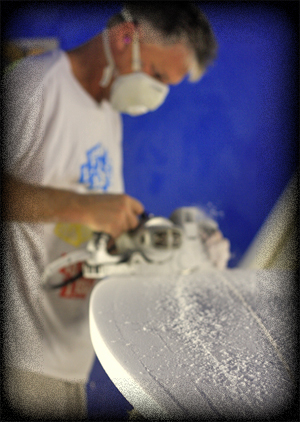 You ever notice how a surfboard tends to ride best after it's been dented and dinged around a bit? That's because the building of a surfboard is a lot like that of a human being. It starts out as this crude, fat creation devoid of knowledge and power, before it's chiseled and refined and reinforced by hard life experience until it's ready. Confident. Focused. Strong.
In other words, the harder it is worked, the better it works. Equal parts laborer and entrepreneur, Southern Shores, NC's, Mike Rowe never took the easy route in his ascension to professional surfboard shaper. Initiated by New Sun Surfboards in 1986 as a lowly sander/ polisher, Rowe eventually followed chief mentor Ted Kearns on to Gale Force Glass, where he remained humbly behind the mask and behind the scenes until one fateful afternoon in 2001, when factory icon Murray Ross put a planer in Rowe's hand and crafted five surfboards, side by side, with him. A few rookie mistakes (and a few wise caveats from Murray Ross and Lynn Shell) later, Hooked Surfboards were born. Naturally, Rowe enlisted longtime supporters Chris Massoth and Eric and Julie Dreelin to test-drive his first shapes. Meanwhile, Rowe was also working construction and waiting tables full-time, building a skateboarding paradise/ Carolina dream home, growing his family unit by the critter, and pondering whether or not his subterranean "Hooked" T-shirt and sticker company could transcend DIY neighbor-core to become a legitimate surfboard label. After riding "Lucky 13" — Rowe's thirteenth shaped board — throughout a month-long barrel bonanza in Indonesia, he had his answer.
Watch Mike Rowe Shape Surfboard
Currently representing the Hooked brand inside, along, and above the Outer Banks' most hallowed hollows — not to mention colorful wavescapes abroad from Indonesia to Mexico — alpha rider Dana Quinn has seen a meteoric rise in online and print surf mag coverage since hooking up with Rowe (no pun intended). Operating out of the geographically friendly, hardware-conscious shop, 158 Surf & Skate, Rowe currently builds around a hundred boards a year, vehemently embracing a 100% hand-shaped, customer-first experience. And building each human relationship like he does each surfboard…
With care and attention to detail.